Alesco Senior College started in 2002 as Alesco Learning Centre – a registered and accredited, non-government independent school specifically designed for the inclusion of young people who cannot or will not complete their education within a traditional setting.
The school caters to young people in grades 9 through 12 in Newcastle, Lake Macquarie, Cessnock, Port Stephens, Raymond Terrace and the Tuncurry/Forster region.
In 2012 a decision was made to be clearer in our program's aim and the title was changed to Alesco Senior College in 2013.
The school is located at Atwea College's Laman St Campus, housed in the old Cooks Hill Public School building built in 1903. It consists of 4 main classrooms, a computer lab, kitchen/wet space and staff rooms. Alesco Senior College is also centrally located to the Newcastle Regional Library, Art Gallery & Museum as well as sporting facilities etc.
Alesco Senior College is unique in its blend of academic studies and case management approach set within a community based adult learning environment. It is an example of formal education within a non formal or non institutional environment. The school aims to promote education as a priority for young people, as well as helping to create better future citizens of our community through the development of the values of respect and responsibility for themselves and others around them.
Alesco Senior College, like its auspicing organisation Atwea College, does not have any religious or political affiliations.
Recent brochures: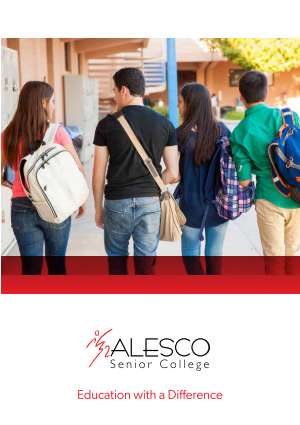 Community engagement
Alesco works with students on engaging within the community through new and existing programmes and projects. 2013 has witnessed the development of one such project. Alesco has invested in purchasing puppets and a puppet theatre as a new innovative and exciting resource.
The Puppet project commenced as an idea to be a resource that would engender students with a sense of belonging and pride in serving their community. Added to which it has become a rich resource to enhance student learning as they work together to create puppet shows that focus on issues important to young people such as anti bullying messages. Students learn beneficial skills such as working as part of a team, script writing, public speaking and being generous with their time and skills. Alesco students have a repertoire of different puppet performances and continue to learn and practice new ones.
As a part of our 2013 commitment to engage more fully with the wider community we have been planning and are in the process of setting up a range of community enrichment projects such as:
volunteering in the local community
planning and organising youth forums addressing issues confronting young people in the local community
planning and organising fundraising events that give back to charities within the local community.
Alesco Senior College also works closely with agencies such as Headspace, Educare, LoveBites, RoadWhyz, Eastlakes Youth Centre and numerous local businesses with our "SWELL" (Skills, Workplace Education and Lifelong Learning) Work Experience Program.
Apply today or call us on 02 4925 4200.
Alesco Senior College – Application for Enrolment Form