Alesco Senior College is a secondary school, set within an adult learning environment.
It is a school which encourages young people to participate in education and training that leads to a sustainable future.
It offers students the opportunity to complete their Higher School Certificate in a supportive environment which focuses on programs to meet individual students learning needs.
Graduates of Alesco Senior College will most likely move onto further vocational training or sustainable employment.
Some of our students who have an identified and targeted vocational pathway may pursue a future in tertiary education or University.
Alesco Senior College places emphasis on the strengths in provision of services to students.
These include;
The creation of a small safe, supported environment,
Staff work with students on a basis of empowerment, rather than a model of power and control,
That access through education allows the inclusion of other support mechanisms.
The Alesco Senior College also firmly believes in the following key principles of our school:
The student is the centre of the education plan, and all plans revolve around the needs of the student educationally, emotionally and socially,
That there is rigor in the educational program provided,
Students have the opportunity to experience an adult learning environment and undertake a Board of Studies based curriculum.
Aim
Our aim is to offer education to young people whose circumstances have previously prohibited them from succeeding in mainstream education. We provide opportunities for these young people to reach their potential in an environment that is designed specifically to support inclusion and individual needs.
Goal
Alesco Senior College strives to provide vulnerable young people the opportunity to achieve success in a smaller and more supportive environment.
View our current brochure: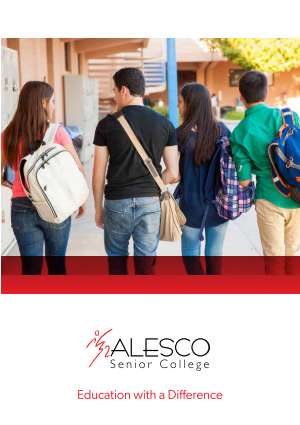 Alesco Senior College Annual Reports:
2020 Alesco Hunter Annual Report
2019 Alesco Hunter Annual Report
2018 Alesco Hunter Annual Report 4490 kb pdf
2017 Alesco Hunter Annual Report 3924 kB pdf
2016 Alesco Hunter Annual Report 2142 kB pdf
Policies and Procedures:
2018 Child Protection Policy and Procedure-Keeping Them Safe_111220
Alesco Child Protection Policy and Procedure – Allegation Against an Employee
To make a complaint or provide feedback please refer to the below policy and procedure:
POL – Complaints Policy and Procedure
Apply today:
News and events
Latest updates from Atwea College
Atwea news
Meet Loren Shortland
Loren Shortland Loren has successfully completed two qualifications at Atwea College Certificate lll in Makeup and recently Diploma of Beauty Therapy.  Loren is strong-willed, determined and extremely talented at massage, reflexology and body treatments. During her studies she has had challenges especially with the covid restrictions with having to continue her studies online when the […]